Testimonials
When choosing a real estate professional, get to know their history!
Below, you'll find information that will help you get to know me better - from awards and credentials I've achieved, to references from past clients.
I consider the satisfaction of my clients to be my greatest achievement, and take pride in my high volume of repeat business and referrals.
Call me today - I'd love to add you to this growing list!
Jamie knows her stuff, and works hard to deliver great service. She's always available and affable. ~ Ben Gelfant
Thanks again to you and your team. Our experience of working with you has been exceptional.
~ Dan & Marlene
Hi Jamie, I appreciate your work for my sale of home. I will recommend you to anyone who intend trade of their properties. Thank you again.
~ J. Suh
Good Morning, hope you are well. Kids out pretty soon? Hopefully you will get some time off? Almost 3 months here and love each & everyday. ♡ Kids play ball and have weekend jobs. Driving lessons end of the month. Jamie our lives are really great, and this is all down to you! I hope you know how good you are at your Job.☆ Thanks for caring about us, you are a Gem! Take care.
~ The Wongs
Just yesterday I sold my property with the help of Realtor Jamie Stewart and her amazing team for $139,500 over the asking price which was already higher than any of the other realtors had valued my place! So I've managed to more than double the price I paid for this place 3 years ago - JACKPOT! I literally got a nosebleed watching her phone the top three bidders one after another while the price went up and up and up! I have never seen a realtor work so hard! Jamie came recommended from more than one direction to begin with and I'd promised myself I'd go with the highest valuer and I did. Jamie offers a STAGER for free and I just did most of what she said to do. She also offers a handyman and the best photographer there is who did a stunning job with lapsed delay photos and an amazing video. She advertises incredibly well - internationally - and that was the key to my sale which came from Calgary! When you hire Jamie, you get a talented team of specialists. She's lovely in all ways - very smart, down to earth and easy to like. She has a degree in Commerce &/or Marketing (can't remember) and continuously takes courses to upgrade. She loves what she does and it shows! YAY!!! So - please do yourself a favour and list your beautiful home with Jamie - she's in the top 2% in all of Vancouver and it shows! And it's all because she just works a hell of a lot harder than anyone I've ever seen - all perfectly legal. She worked within the considerable constraints imposed by the co-op here and still pulled off this amazing result for me.
~ Carol
We were selling the family home, we had no knowledge of the process, as this was our first time. Jamie Stewart came into our home, and we were instantly impressed. She spoke about our wants and needs, and reassured us. Her honesty, good nature, and professional mannerism made us feel at ease. Still not sure what's next, she guided us with patience and grace. I highly recommend Jamie for any or all of your Realtor needs, as she will not disappoint. The family home was sold in 14 days. Our new home we found, was better than we could ever have imagined. We are forever greatful to her and the team for helping us begin our new lives, in our beautiful new home. Sincerely, William & Glenda Wong
~ William & Glenda
Jamie is caring, patient, knowledgeable, dedicated, honest, and trusted real estate professional. With these wonderful attributes and traits our experience with Jamie and purchasing our first home in Vancouver renewed our faith that wholesome and good old fashioned realtors do exist, helping families find there dream homes in the rapidly changing Vancouver property market. A year quickly passed since our first meeting with Jamie and we purchased our home. Throughout the year Jamie kept us up to date with new inventory in the market and was always available to field our many inquiries, texts, and calls. Regardless of the time or day Jamie was there. There were times when my wife and I asked ourselves if Jamie slept because she always had an explanation to our questions, a real estate machine, Jamie Stewart. With confidence we would recommend anyone looking for the "ONE" realtor to not look any further and contact Team Jamie Stewart. With just shy of 2 decades of experience she reflects an agent with twice as many decades in the industry. Certainly a pioneer that places her clients needs paramount and client service her top priorities. Lastly, Jamie is not only a real estate agent but a family friend and a parent. She fully understands a growing families needs and what neighbourhoods are most suitable. Thank you Team Jamie Stewart for being there for our family and helping us purchase our first home, it's been a pleasure.
~ The Chiu Family
Jamie, we can't thank you enough for how hard you have worked for us. Our home had been on the market for over 3 months with absolutely no movement or offers nor a single open house before we switched our listing over to you. You had an open house 3 days after listing with you and an open house every weekend till you had sold our home (sold within 5 weeks of listing with you). You were in constant contact and were terrific at giving us feedback on all the showings and open houses. We have and will continue to recommend you to friends, family and co workers. Once again thank you for all your hard work and support.
~ Delia and Denis Laferriere
My wife & I purchased our first home together, and had Jamie represent us in the transaction. Although there was more than one offer on the property we wanted to purchase, Jamie put us at ease with her professional service, and her top notch negotiation skills. Upon acceptance of our offer, the selling realtor explicitly stated that our offer was successful because we had such a great realtor - and we couldn't agree more. Thanks for your great service, we look forward to working with you again in the future.
~ Shaun M.
In my mind the process was less stressful than I expected, I think you did a great job negotiating for us and helping us navigate through all the different places we saw, you also made sure we saw enough that when did make a choice we knew it was the best choice! I really appreciated all of your advice and honesty, as a realtor and a friend; I know you always have our best interests in mind. Thank you!!
~ Stefi
Jamie was the listing agent in the sale of our family home. We were thoroughly impressed with her up to date knowledge of the current real estate market. During the listing period we received excellent service and constant communication from Jamie. Our calls were always answered and the sale was smooth with no bumps. We had professionals selling our home for us and we got over our list price!!! Glad we found an agent who not only do a great job but also sincerely care about you and your family.
~ Sim Family
I am not one to usually write testimonials, but in this case it is a must. When it became time to sell my parents beautiful character home in Vancouver I was overwhelmed with the amount of realtors in my area. Over the years many different note pads from various real estate agencies made it to the house. I chose 3 realtors from that pile and the interviews began. I wanted someone that cared about the house and was sensitive to how I felt about my family home. Price was also an issue as one of the realtors told me because of it's age it was only worth "land value". This was a very special property and that was so not the case! Meeting Jamie was a complete pleasure and I instantly felt at ease and had the trust I needed to have to got ahead with with this sale. My house sold for full price even before the open house. Her advertising and promotion was brilliant and she really put her heart and soul into it! She met and exceeded all my expectations. So if you need a real estate agent, Jamie will not disappoint.
~ Shelley Lewis
We received a note in the mail and decided to list our home with Jamie. We felt she could be trusted and in the end she got us a much higher price on our property than we expected. Jamie also helped us purchase our new home. It was a little worrisome as we had to sell our house then buy something in a fast paced market. Jamie ensured everything went smoothly - thank you!
~ Nestor and Helen
After consulting a few realtors, we decided to list our mother's home with Jamie. After providing us with a written market evaluation of the property Jamie answered our questions promptly. She had a specific marketing plan in mind, and advised and encouraged us to take our time in making a decision. Her no pressure approach gave us confidence in her ability to fulfill our expectations. We thought about selling the property privately. Jamie provided us with the pros and cons, and offered to help us with the closing. We decided to list with Jamie because of her expertise in selling real estate. The property sold quickly, as promised, and we were extremely happy with the final result.
~ Sharon, Lila and Rand
When we decided to sell our apartment in downtown Vancouver, I listened to my banker who recommended me a realtor. Her name was Jamie Stewart. From experience I know that networking always helps, but for some reason I was quite sceptical towards any realtor because of the high fees that are being charged. When we met Jamie for the first time, I new immediately that she had done her homework. After an initial assessment of our property, she returned and gave us superb advice on how to sell the property with the greatest visibility she could get from realtors and potential buyers. With her dedication and energy, Jamie showed us that she could sell our place within 4 days. We received up to date feedback from Jamie throughout the process and we were able to get through this sale seemlessly thanks to Jamie. I would recommend Jamie to anybody!!
~ F. Luit
Jamie's without a doubt the most affable, patient and caring realtor I've ever had the pleasure of working with. This, combined with her sense of professionalism, efficiency, and up-to-date real estate knowledge, has made my dealings with her an entirely stress-free and enjoyable experience. It's not often that we come across that one standout realtor with whom we can actually trust and find the chemistry to work well with. However, Jamie's definitely one of these few hard to find realtors with whom I'm fortunate enough to have finally found. I look forward to a very long and prosperous working relationship with her in the future. Thanks very much Jamie!!
~ K.Ong
Can't thank you enough for all your hard work on this sale. You have done a great job. It definitely was a difficult one and appreciate all your work on it. Thank you again.
~ B. Roth
It was a pleasure working with you, too, Jamie. If you ever come down here and have some time, give me a call and maybe we could have a little visit. I think you more than earned your comission on this deal!
~ T. McKnight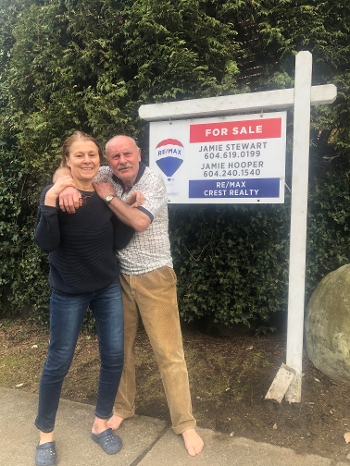 Hello Jamie Stewart. We would like to share our positive thoughts about the whole process of selling our house with others, so that if they are looking to retain a realtor, they do turn to you. Our first meeting with Jamie suggested to us that we will not look any further in our search of a new realtor with whom we wish to work. It was obvious right away that Jamie is an experienced professional, who is ready and able to explain the process of selling a family home and has an answer to every question, based on her extensive experience. Together, we assessed what items to focus on in preparation for listing. We were pleasantly surprised that we were provided with a free staging consultation by an experienced interior designer. The photography and video that was organized for us and paid for were amazing and showed our house in the best light. Most importantly we were presented with a well prepared and thought through market analysis that helped us understand our best price. This, of course, gives the seller a huge advantage: opportunity to draw on the expertise and ideas of an experienced realtor. As a friend put it simply: "Fast when done right". Our house sold within days of listing, for over asking price with which we were very happy. We absolutely recommend Jamie Stewart, if a seller wants to get a good result.
~ Vladena and Josef
We moved to Vancouver a little over two years ago after being homeowners in Toronto for over a decade. Needless to say, we were not experienced in the ins-and-outs of the Vancouver real-estate market. Jamie came highly recommended and it was the best recommendation we ever got. She walked us through every step of the process, from setting us up with an amazing mortgage broker, to advising us on when we could and couldn't negotiate on prices, to the offer, the inspection, and all the tiny details of the strata bylaws. She was always available for questions and was even able to get us the keys for our new home earlier than expected!
It should not go unsaid that Jamie's team is also amazing. Gina scoured through reports and various documents to make sure that the deal was solid, and stayed at the office late to help finalize the deal.
We could not have asked for a more diligent, knowledgeable real-estate agent! Jamie exemplifies the very best of Vancouver's real-estate professionals.
As a bonus, she helps to make our city greener by driving an electric car!
Thank you, Jamie!
~Joanna and Steve
It has been a great experience working with Jamie. She's a great negotiator and works really hard for her clients. Despite somewhat adverse market conditions, Jamie was able to sell our place at a good price to a fantastic buyer, enabling us to trade up to our first house! Staging coaching service was a great add-on that really made our place look fantastic and it was highly appreciated by all potential buyers.
Jamie has been extremely patient with us. My wife and I are picky buyers and we looked at over 100 houses before we bought one. It has been a lengthy process, but the result is totally worth it. We just hope we weren't the worst clients! :)
If I had to summarize the experience in just a few words, it would be "can-do attitude".
~ Y
I met Jamie through FB. Jamie has honestly been the best real estate agent that I've ever worked with. She was professional, diligent, caring and industrious. My townhouse was old and needed some work before selling, Jamie graciously took care of all the details for preparing the house, then negotiated with buyers to get me a great price. All within 2 weeks! I'd highly recommend Jamie to anyone and I'll use her again for my future real estate buying and selling. Thank you so much Jamie!
~Karim
Our son gave us good advice to have you sell our home.
You are a very pleasant and focused lady who gets the job done perfectly,
Also adding staging advice and a great photo brochure.
Thank you again for always keeping in touch and a quick sale too.
We also enjoyed our times with your assistants.
~Bonnie
We have had the pleasure of working with Jamie on different occasions over the years. She is consistently the consummate real estate professional. Jamie is an outstanding communicator and has a tireless work ethic in support of her clients. In a competitive real estate market, her industry knowledge and experience was invaluable to us. She also has a keen sense for what makes the home market tick, and how to align the aspirations of her clients with a successful purchase or sale. Our experiences working with Jamie have been all extremely positive, and we wouldn't hesitate for a second to work with her again.
~ Derek M
Jamie is very experienced and knowledgeable. she helped guide me through the process of purchasing my first home and made the process easy. I highly recommend!
~Patrick L
Jamie is the one we will always turn to and trust. She is profession and super knowledgeable!
Jamie is an absolute treat to work with. She is efficient, on top of the market trends and always looking out for the best possible deal. On a personal note, I always enjoyed our dinner celebrations after the deal was closed. I fully recommend Jamie and wouldn't work with anyone else.
If you are buying or selling a home in Vancouver, I would recommend Jamie without reservation. She works hard, has a deep knowledge and experience of the market, communicates promptly and clearly and gave us excellent advice on staging and presenting the apartment for sale. Thanks Jamie.
Jamie is super professional & very personable with great real estate knowledge and excellent negotiation skills. She guided us through a bidding war (still can't believe we won with our very first offer) and sold our current condo in 2 weeks! Highly recommend her for any real estate needs 👍 Until next time Jamie...TY🙏😊
~ Lynn L
When my wife and I decided to sell our on in Kitsilano we interviewed four of the top west side agents. Jamie was the agent that gave us a very clear plan for selling our home. It was clear she wanted our business and was prepared to work with us to maximize our sale.
Once we signed with Jamie, she and her team executed the plan exactly as she had laid it out. They were very professional and communicated with us every step of the way.
I would recommend Jamie to anyone looking for a dedicated professional team for there real estate needs.

~ Daniel M
Our broker highly recommended that we worked with Jamie and he was absolutely right. She is a pleasure to work with.
We were first time buyer and she really made the entire process easy and enjoyable. She always took time to explain everything in detail. It was so reassuring.
Jamie is professional, straight to the point, and friendly. We will definitely work with her again.

~ Claudia F
Jamie found us the perfect condo to downsize from a large family home into. She listened to our wants and needs and when the perfect place came on the market she made it all happen professionally and easily. We love our new place, the location and new lifestyle. If we ever move Jamie will be the first person we call.

~ Meghan L
Jamie found us the perfect condo to downsize from a large family home into. She listened to our wants and needs and when the perfect place came on the market she made it all happen professionally and easily. We love our new place, the location and new lifestyle. If we ever move Jamie will be the first person we call.

~ Meghan L
Working with Jamie and Remax has been a great experience. I would highly recommend Jamie and the team's services.
She is personable, has good communication skills and a pleasure to work with. Jamie has been efficient and professional through the process. Outstanding job !

~ Megan D
The professionalism shown by Jamie was above and beyond. I highly recommend her for any of your real estate selling or purchasing needs. 5 star service!

~ Lucas W
We were first introduced to Jamie in 2019 when we were looking to buy our first home - fast forward 3 years and the time was right to sell. Jamie was relentless in finding the right buyer for our home and we always felt she was in our corner. Despite some unexpectedly challenging circumstances (the rapidly changing market being only the least of them) she took everything in stride and managed to get the job done. We're very grateful for her professionalism and hard work and we will be employing her and her team's services again.

~ Patrick H